Related Articles...
Here's the ABC's, a quick summary of the most common steps, procedures and requirements in aircraft financing... (read more)
While a good appraiser will inspect the aircraft and examine the log books and maintenance history of the aircraft, an appraisal is typically not as thorough as a comprehensive inspection... (read more)
How long does it take to get an aircraft loan approved and closed? Lenders will vary, but one to three days is fairly routine. Many offer same-day approval and next business day closing... (read more)
A loan is money and money is personal, and the bigger the dollar amount and the bigger the collateral, the bigger the opportunity for shouting and fistfights at the closing. Here's five tips to keep your aircraft loan closing free of both... (read more)
Aircraft Loans, Moans and Groans - What Borrowers Learned
Aircraft Loan - First Time Buyer
The first time buyer is more likely to get burned because they fall in love with the first thing they see. Keep your emotions in check, at least until you get back the pre-purchase inspection report.
– Tim K., Bowling Green, OH
Aircraft Loan - Shop Around
I found interest rates and terms varied dramatically depending upon the lender. Get two or three quotes from online lenders - that's quick and easy and only takes a few minutes. Then double check those with a couple more from local sources, like you're your own personal bank.
– Jake S., Columbus, OH
Aircraft Loan - Careful Using Online Evaluators
Tie up the plane you want fast, but make sure you have contingencies in there that will let you get out of the deal if the plane doesn't appraise or pass a pre-buy inspection. And watch out for those online price evaluators. A lot of the "free" evaluators that are stuck onto websites will come in with a market value much higher than an appraisal. Use them as a starting point to get a ballpark for the price of an aircraft, but don't bet the bank on that figure.
– Charles G., South Bend, IN
Aircraft Loan - Pre-Buy Inspection
Don't sign a contract or put money down without a contingency clause in there about a pre-buy inspection. And put some detail into it. Every pre-buy is going to come back with a few petty things wrong with the plane. That's ok. You can let some of that stuff slide without killing the deal, as long as you know what you're buying and don't mind eating the cost. But if the mechanic hands you a shopping list, or there's an issue of airworthiness, both parties are going to look to the contract to see what level of problems trigger a refund. So spell it out to protect yourself.
– Mike B., Stillwater, OK
Aircraft Loan - Pre-Buy and the Mechanic
Make sure the mechanic you pick to do the pre-buy isn't the guy who routinely does maintenance on the plane. Bring in somebody from a different airport if you want to get an objective opinion.
– Karl P., St Louis, MO
Aircraft Loan - Independent Title Search
I would advise anyone looking to buy a used aircraft to have their own independent title search performed on the plane you want. I went through AOPA (Aircraft Owners and Pilots Association). Members have access to a title service for about $100 bucks. Well worth it. They search accident and incident history, 337's and registration history. In my case, I found an accident on file with the FAA but no 337's or log entries as to how the damage was repaired. The plane looked fine, but without the documentation, I decided to pass on the deal. It's buyer beware out there.
– Travis M., Amarillo, TX
Aircraft Loan - Down Payment
A lot of sellers will sign a contract with nothing down, especially since they've only got to hold it off the market a few days. If you've got a seller who insists on big down, you need to insist on an escrow agent.
– Greg W., Louisville, KY
Aircraft Loan - Log Books
You can tell a lot by reading the log books, but sometimes you've got to read behind the lines. The log might not tell you that a Houston plane is an Ike survivor, but if you've got a burst of shop activity in late 2008 repairing the top of the airframe, you can begin to surmise it was flipped in the hurricane. It's up to you to then decide if you're comfortable with that degree of damage and repair.
– Kyle S., Denver, CO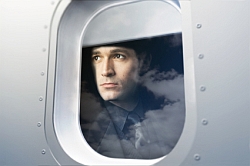 Aircraft Loan - Alternatives
If the bank turns you down, the aircraft you want doesn't appraise, or you had all your stock in Lehman Brothers, don't worry. You can still fly. There's always coach.
– editor
FYI, a thorough discussion on lending procedures and requirements can be found in the ABC's of Aircraft Financing.